BATH CARE

Moisture Bath & Spa Beauty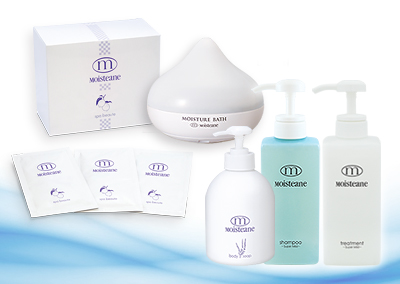 Lay back in a warm bath, add Spa Beauty Essence and let our Moisture Bath exfoliate, deep cleanse, moisturise and nourish your skin.
Moisteane Spa
Spa Moisture Bath $435.00
Moisteane's Skin Conditioner for the entire body, used regularly in the bath helps moisten and condition the skin. It has a warm colour (blue pastel) changing glow light to make the experience of bathing even more soothing and relaxing. *Not advisable to use in bathtub made of stainless steel material.
Spa Beauty Box (40ml x 30packs) $88.65
It's a mineral bath which contains beauty ingredients such as Vitamin C derivatives, liquorice extract and 18 amino acids that gives a moisturising effect to the skin. It has scent of Lavender Oil, which helps relax you deeply, and offers emollient effect to the skin.
Spa Beauty individual pack (40ml) $3.10/pack
Hair Care
Shampoo 450ml
Moisteane Shampoo is a weak-acidity shampoo gentle on the hair and scalp. It washes your hair beautifully minimising dandruff and scalp itchiness.
Treatment 450ml
Moisteane hair treatment contains silk protein ingredient. Whilst caring for your hair and scalp it is a gentle conditioning treatment, which keeps dandruff and itchiness away. Leaving your hair shiny and beautiful, a pleasure to touch.
Body Care

Body Soap 300ml $39.60
Moisteane body soap is an amino acid based, liquid body soap, which is extremely gentle to the skin. Smooth bubbled lather gently cleans and exfoliates dead skin from your body. This product is also suitable for dry and sensitive skin types.
Body Lotion 125ml $48.40
Moisteane body lotion contains natural moisturising ingredients. Extremely gentle to the skin. . For best results, we recommend applying with Moisteane Skin Conditioner. Non-oily Lotion gives your skin a beautiful moist feeling.
Hand cream 75g $33.80

Hand cream 75g $33.80
Moisteane hand cream will give you smooth textured and moisturised hands. Whilst it prevents dry skin, it may also be used on elbows, knees and heels.